The Nothing was formed in the winter of 2003, by members of Send More Paramedics and ex member of Labrat. The Nothing are the sound of hatred, guilt and shame mixed together in a cacophony of screams and whispers, this is a journey through the dark places inside yourself. Described as, "Slayer sexually abusing Himsa while the Misfits look on". they soon set about releasing their first 2 track demo which was well received and soon sold out.

By July of 2004 they had played up and down the country with such bands as Zao, Martyr A.D, Undying, Darkest Hour, Shai Hulud, Fig 4.0, D-rail and The Break In, and a small U.K tour with friends PsP (now Errander) and D-rail.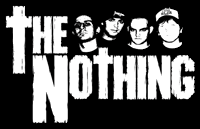 A seven track recording was done as Pristene Studios in the summer of 2004 snd this was released as 'Coma Poems', a skull crunching, anger, hardcore metal fest of a mini album. This got great reviews across the board.
With the addition of Gaffer (Errander) on second guitar, The Nothing went on to release a further split CDEP with Send More Paramedics and then went on to release a full length both on Jamie's label Thirty Days Of Night Records. In about 2006 the band split, but reform every now and again to play one off gigs.